Content Structure Guidelines
This is the guidelines that all SiteSpot writers must stick to. It creates text in a format that our designers can then easily build out into a useable and readable website.
Rule 1: Dot Points & Headings
Text that is broken down into nested dot with headings where necessary makes so much sense to a web designer... Take these examples, using headings and nested dot points, we're able to simply convey information hierarchy to the design team to build out something cool and easy to use.
Paragraphs should be 5 sentences max
Sentences shouldn't be too long
Include links to images if necessary
TURN YOUR MSP WEBSITE INTO YOUR BEST SALESPERSON
We help MSP's and IT Service providers level-up their online presence so it reflects their true value and generates more consistent, qualified leads.

Attract your ideal client

Drop the IT speak and put out an easy to understand message - so you can land perfect fit clients and deliver your best work

Educate and connect

Your website should be working hard to fill your pipeline with leads, not dust. Our clever copy helps you fill your pipeline with clients that get it, instead of dead ends

Stay front of mind

Level up your client communications, so you can increase your revenue and reduce the number of sales calls.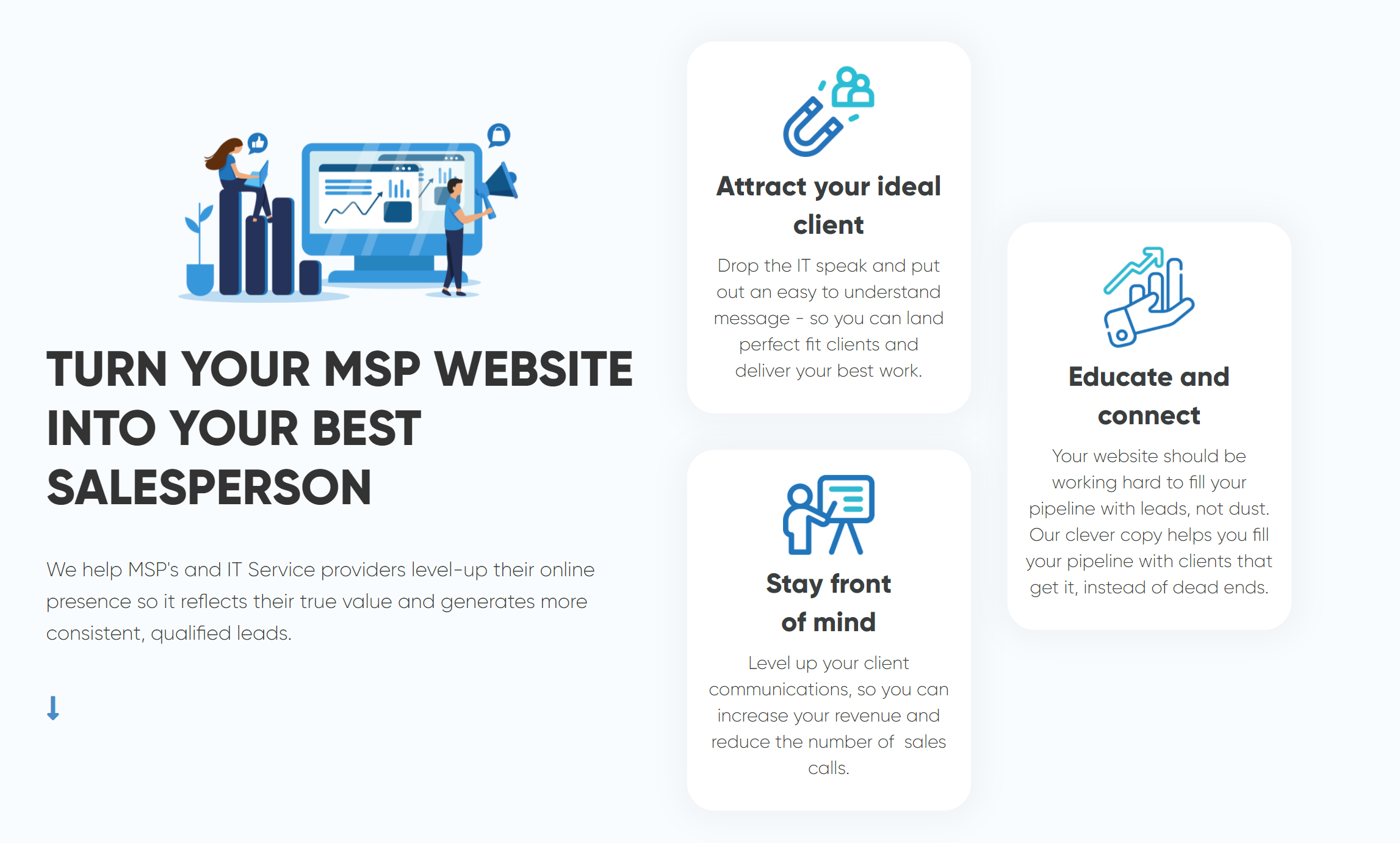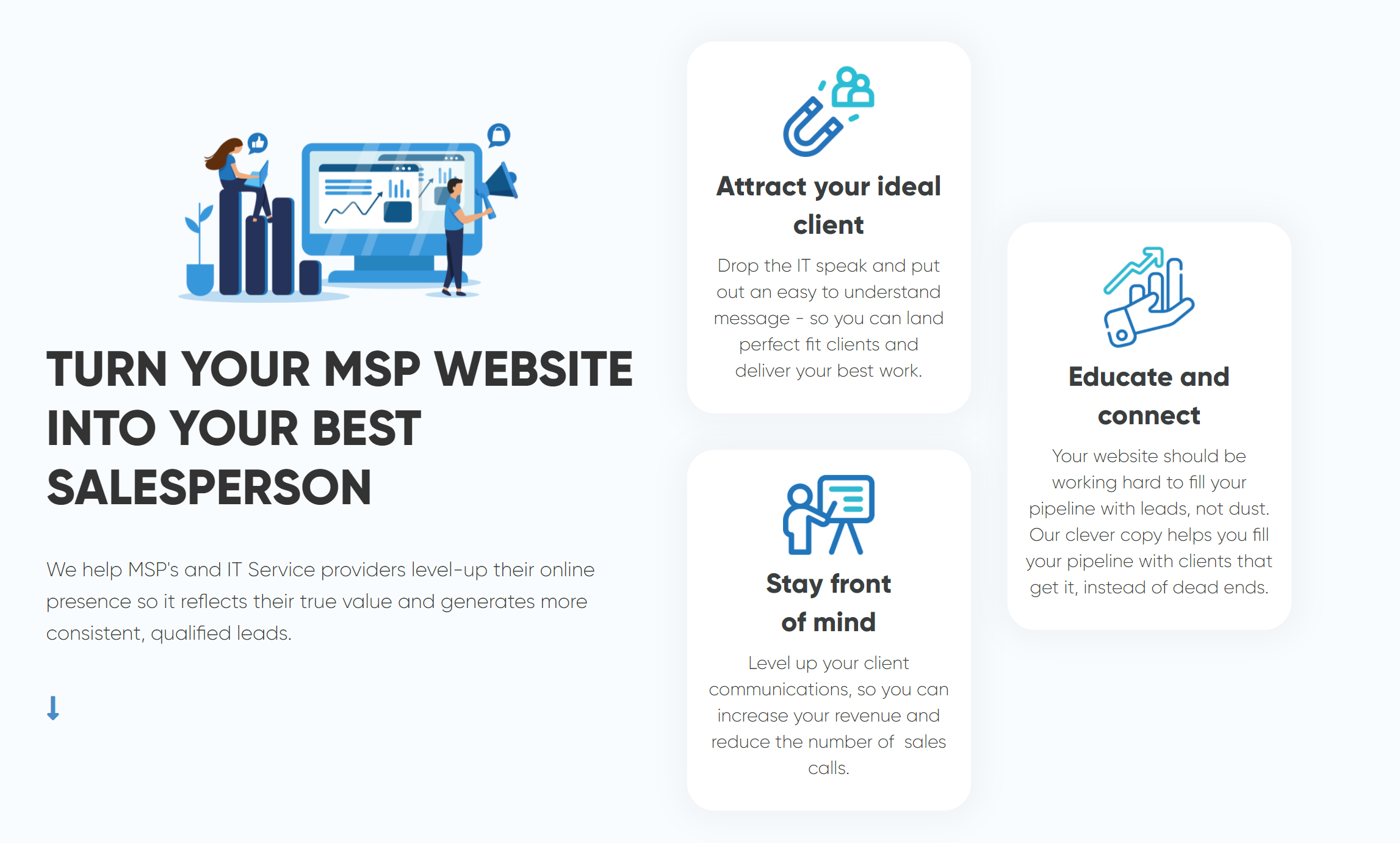 PROACTIVE FIXES
not last second-saves

Our focus is on your technology working reliably in the long term, with no surprises. Our honest technicians will always endeavour to alert you to any issues, before they arise.

WHATEVER YOUR BUSINESS NEEDS
we can do it

Email and communications, backups and disaster recovery, security, cloud, remote working, and more.

EMPOWERING YOU
to make informed decisions

We are honest and speak in your language, no techno babble. Understanding your technology deeply allows you to make smart business decisions.

GREAT COMMUNICATION

We are committed to being available when you need us so that your issues get resolved as soon as possible. Your success is our success.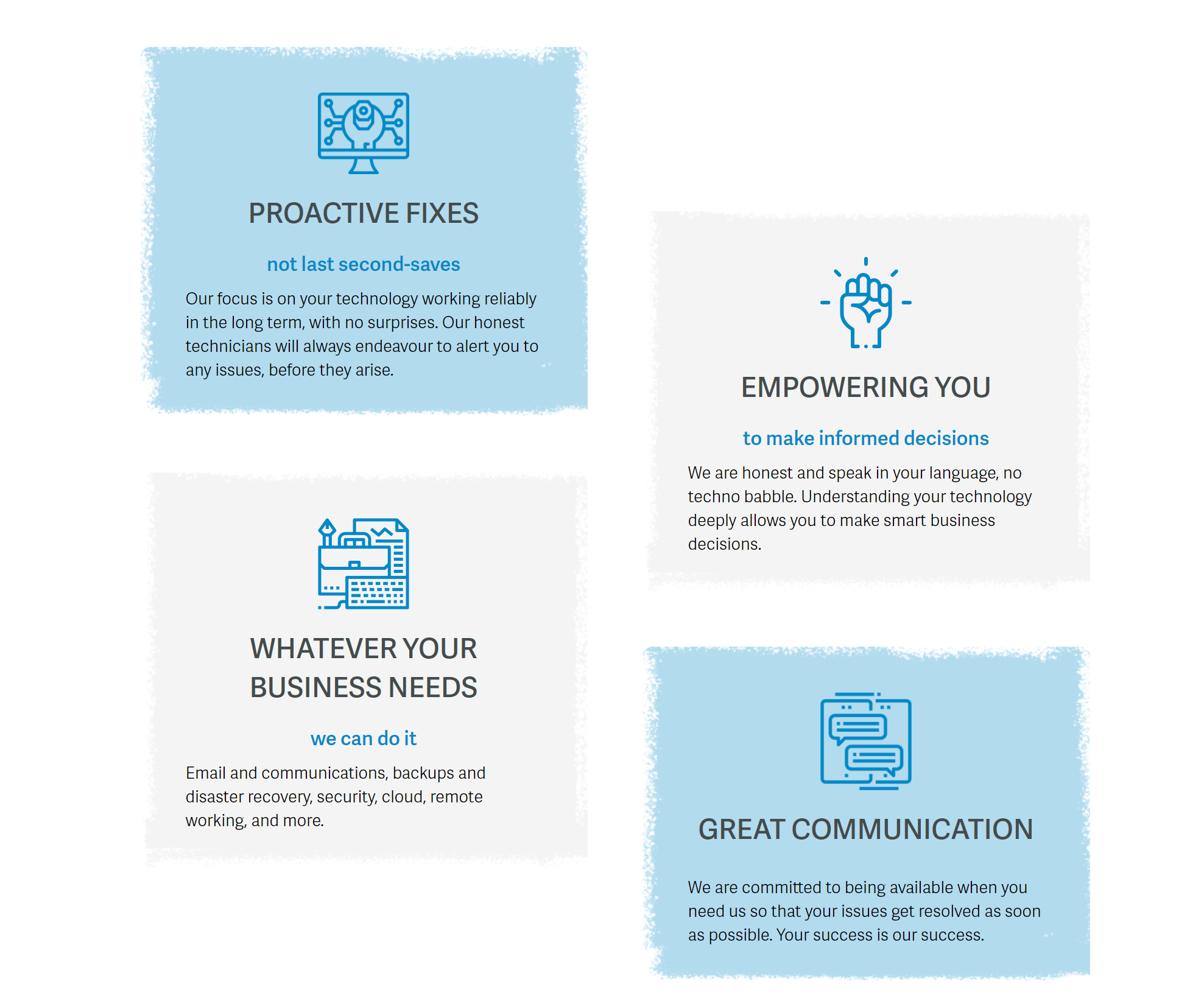 Rule 2: Respect the reader
We never want to talk down or belittle our customer. Using fear-based copy needs to be a final resort only. Write to the readers as you are writing to a colleague or friend - No BS, to the point, motivational and not preachy.
We want to show that we are the reliable, smart and trustworthy. Not looking for any dollar we can find.
Varying levels of casual is absolutely expected to match the client and business - but always being respectful of the reader and their time.
Rule 3: Solution based copy
Discuss the problem, discuss the solution, explain how we are a great option for you to implement the solution.
Aside from about us pages or any similar - content should be at least 70%  2nd person, and the rest first and third person.
Your computers aren't backed up and you're not sure what data is even backed up. That's where toms IT can help you
First Person (You are experiencing it) – "My heart leaped into my throat as I turned and saw a frightening shadow."
Second Person (Force you into the story) – "You need IT support that understands business." or "Are you looking for a winter experience like no other?"
Third Person (Show different points of view) – "The children turned and saw the frightening shadow. They were unaware a cat had walked close to the low-hung lantern."