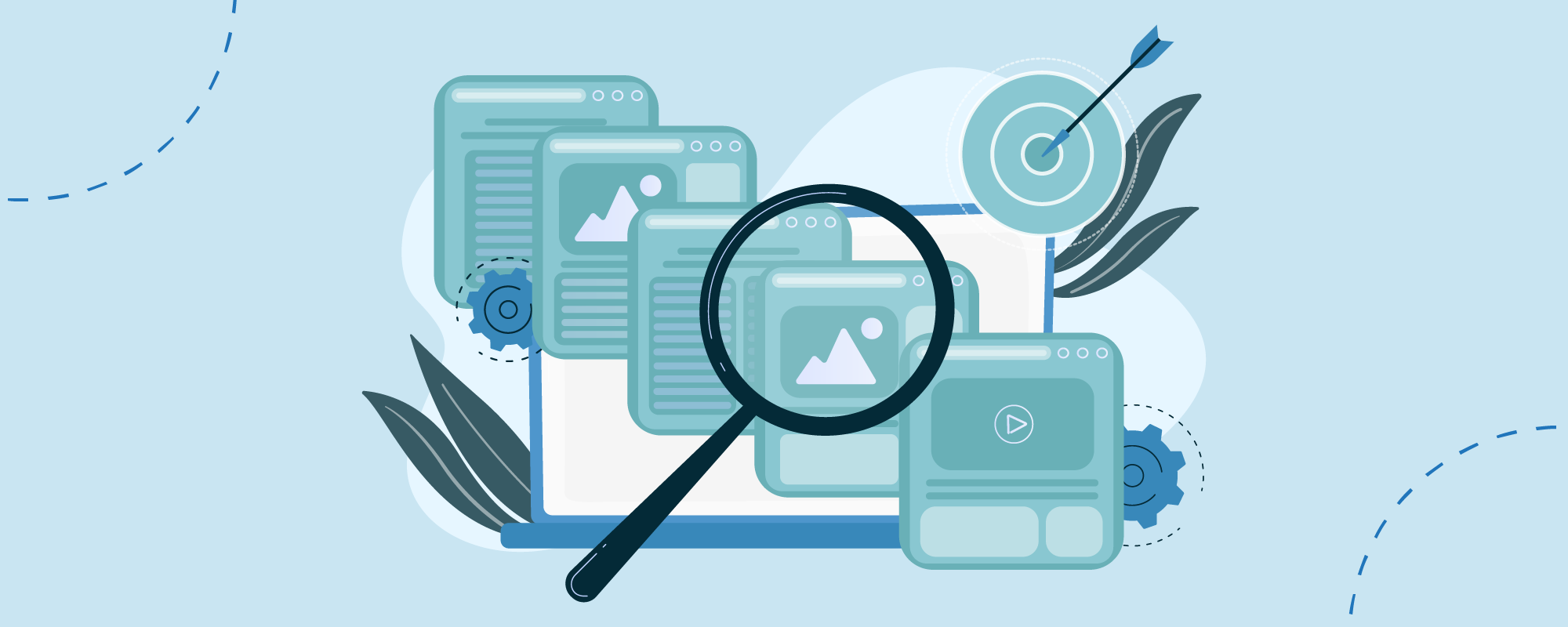 Have You Optimized Your Google My Business Listing?
Everybody loves Google. It's a fact of modern life. 
No matter how big or small your company is, one of your top priorities should be verifying and optimizing your Google My Business Listing. Why? Because when people search for products or services that you offer, you want them to find you immediately. Setting up your Business Profile can help you rank higher in local and general searches so more customers can fall in love with your brand.
The Importance of Verifying Your Business
Verifying your Google My Business listing is the first step toward optimizing your brand's profile. Once you confirm your listing, you can change your settings to include more accurate and relevant details for your customers and get a better 3-pack listing. (3-pack is the top three businesses Google will highlight for specific keywords in a given area.)
Verifying your listing typically entails having Google send a postcard with a verification code to your business's mailing address. Once you receive the postcard, you log into Google My Business, enter the code, and you can start updating your Business Profile.
How It Affects Rankings
If your Google My Business listing is accurate, has positive reviews, and is optimized for relevant keywords, then it's more likely that your brand will land in the 3-pack or other listings on the results page. 
The higher you rank, the more likely it is that people will click on your content. And the more people click on your content, the higher you'll rank in future searches. So having a great Google My Business listing can help you reel in more customers and show Google that your website is valuable.
What an Optimized Google My Business Listing Looks Like
Let's take a look at Google My Business listings in action. We got a ton of results for the Google search "coffee shop Nashville," but the 3-pack that appeared highlighted businesses with optimized profiles.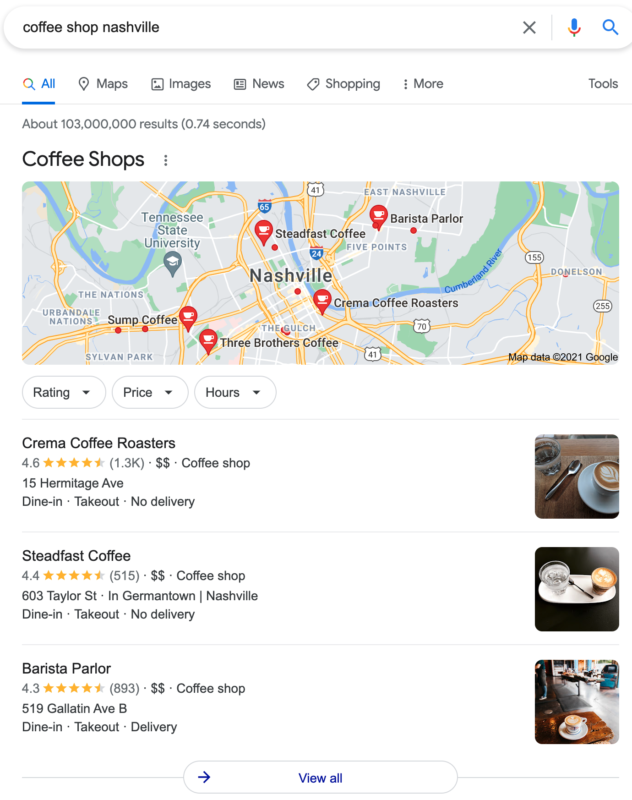 3-pack listing for "coffee shop Nashville"
Our #1 listing was a completely optimized profile with a high average review score. We got cut off by the page, but if you kept scrolling on the listing, you could read top reviews, read their "from the business" description, Google posts, and other web results.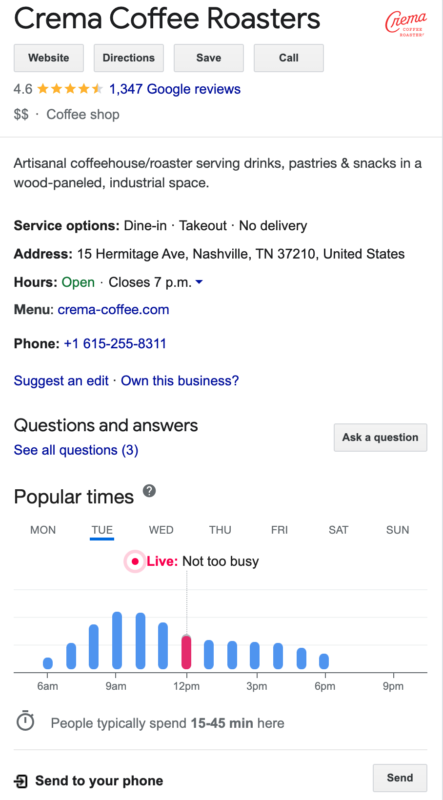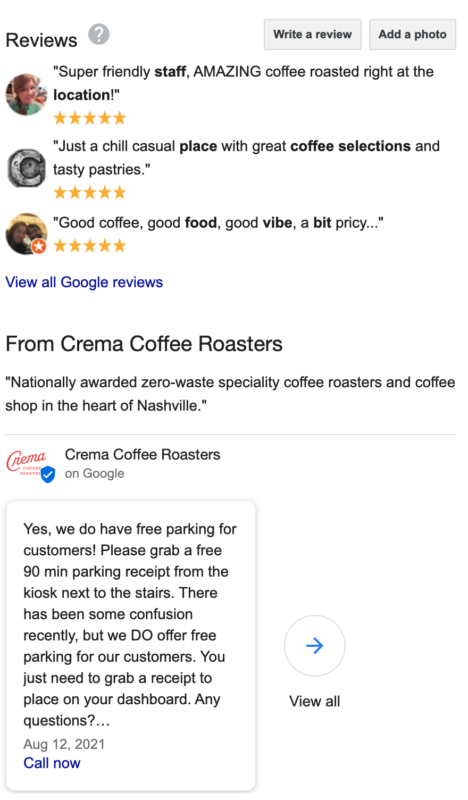 Optimized Listing
Our non-optimized listing is a different story. Their website isn't connected, they don't have any reviews or pictures, and there isn't even a number to call to find out if they're open.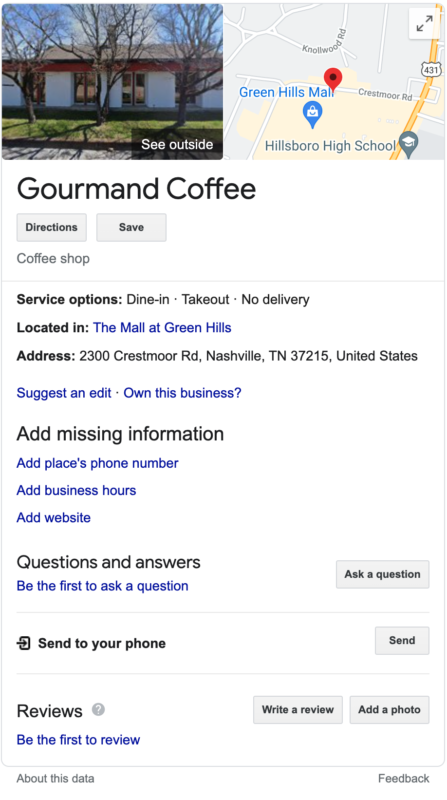 Non-Optimized Listing
If you had to choose between the two, which would you pick?
How to Optimize Your Google My Business Account:
Claim your business profile

Fill out every part of your Google My Business profile

Make sure your content information is accurate

Choose both primary and secondary categories for your business

Check applicable attributes

Write a complete and engaging description for "from the business"

Publish Google posts once a week
Add new photos once a week

Answer questions quickly

Collect and respond to reviews

Set up messaging

Update your profile as necessary
SiteSpot is a website management system that makes writing, designing and maintaining your site a breeze.