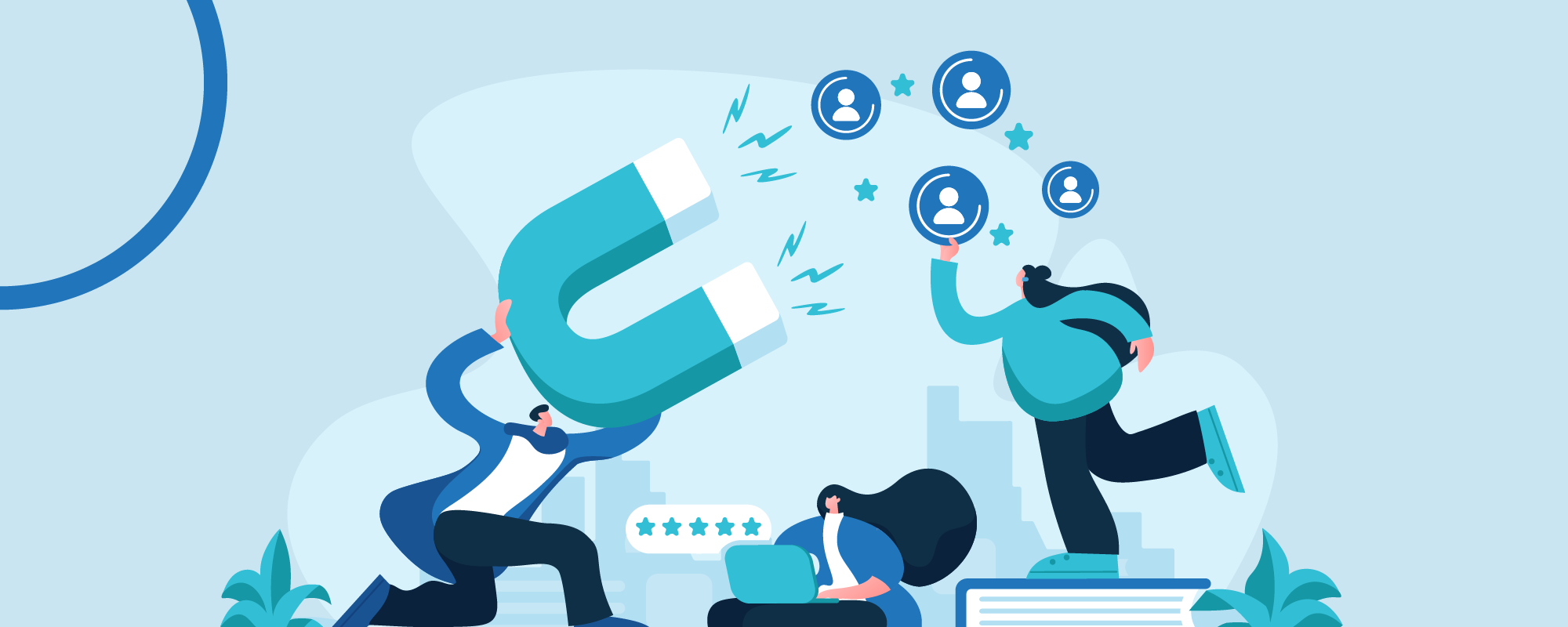 Using lead magnets is an effective marketing strategy for lead generation when done correctly. The thing about these lead magnets, though, is that they take time, effort and, sometimes, money to create.
These lead magnets can be anything like a contest, a downloadable e-book, a Podcast series, virtual learning courses, a video series, anything with valuable content that a prospect will want to acquire in exchange for their contact information.
Now, if you're a business with not enough time and with a lot on your plate, you'll find that creating lead magnets like the ones mentioned above is not a viable option for you if you do not have the budget for an extra set of hands or a marketing team to help you.
In this article, I will help you brainstorm lead magnet ideas that will take less time and money should you wish to hire that extra help.
But first, let's define what a lead magnet is for those who have not heard of it before.
What is a lead magnet?
A lead magnet is a tool in marketing used to generate leads. It is a resource piece which can be in the form of various formats which are given for free in exchange for a prospect's contact information. A lead magnet can be an e-book, whitepapers, templates, checklists, a free subscription or any other downloadable resource material. These resources are usually given to prospects after they have submitted their contact information.
Lead Magnet Ideas
As mentioned earlier, this are actionable lead magnet ideas you or someone in your team can do themselves which will cost less time and money. That is because instead of creating new content, you will be repurposing your old content for this project.
To help you get a better idea of how to repurpose your content as lead magnets, here are 10 lead magnet ideas you can do.
In no particular order, here are our top 10 lead magnet ideas:
1. Resource Guide
A resource guide is something like a list of resources that can help your prospects achieve a certain goal. This is a perfect idea if you already have an existing strategic blog post. A resource guide can either be a list of downloadable files, a list of relevant blog posts, a list of tools, a list of books, a list of recommended apps, and the like.
This resource guide is a great addition to a prospect's collection since it has already been curated with recommendations they can use to achieve better results.
2. Workbook
Similar to a school's workbook, it aims for the users to learn by actively doing. By using a workbook as a lead magnet, you are actually positioning your authority as an expert in your industry. These workbooks are sometimes in the form of simple editable PDF or Doc files. They usually come in a simple layout giving you more space to write down your progress or ideas as required in the workbook in case you wish to print them out.
Is there a particular subject related to your campaign you think you can create a workbook with? Because it is essentially a training tool that requires for the users to immediately apply the knowledge in it, it becomes a valuable tool for lead generation. It can be anything with exercise like how to determine your ideal marketing persona, how to determine your business plan, or planning for your blog post.
Be sure to include a compelling call-to-action so that your prospects consider buying in to your offer or premium service by offering a more comprehensive approach to their newfound knowledge.
3. Cheat Sheet
Do you have a long-form content that has a slight complicated subject? Does it have various terms that your readers may not be familiar with? Then, this is another downloadable resource that your prospects will find valuable. A cheat sheet is a downloadable document with a summarisation of the important points contained in your blog post with a glossary of terms used.
Let's face it, unless the reader is well-versed in that same topic, he/she may be likely to re-read your blog post again. But for those who find your blog post extremely helpful, but complicated, a cheat sheet will make it relatively easier for them to understand and remember some of the finer points in your post.
Offer that cheat sheet at the end of your blog post by asking them to opt-in to your mailing list or subscribing to your newsletter in exchange.
4. Mini e-Book
Do you already have an existing series of blog posts or blog posts with several overarching topics? If so, then you can repurpose them and compile them to create your own mini e-book. This type of lead magnet is effective because it is far easier to download it and save it than to check out each individual article to just have an idea on how to approach a single goal. This is also effective for prospects who are always on-the-go.
For example, your business is a bookkeeping business, and you would like for your prospects to buy in to one of your course teaching prospects how to start their own bookkeeping business. Check out your blog and pick out five of the most relevant blog posts that can help your prospects get an idea of what to do when starting their own bookkeeping business. The articles can be the following:
How to Create your Business Model
How to Determine your Ideal Client
How to Determine your Pricing Strategy
Five Staffing Tips for your Bookkeeping Business
Marketing Tips for your Bookkeeping Business
Collectively, these articles can be compiled into your mini e-book which will focus on the first five things your prospects have to consider before they start their bookkeeping business.
5. Webinar
You can host a webinar and create a presentation out of a blog post with a subject you can expand. If that blog post is not detailed, you can discuss that detail into the webinar. Nowadays, webinars do not have to be as long with multiple speakers. It can be just you or with one other colleague who are experts in the same subject.
Invite your prospects to tune in to your webinar, using their email address for a lead magnet strategy. You can even throw in some questions like the size of their organisation, what business challenge they feel your webinar can help them with, etc. This can help you score those leads and will potentially help you qualify these leads.
6. Ultimate Guide
Slightly similar to a Resource Guide, an Ultimate Guide is a list of recommended resources you feel are the most comprehensive in nature and that can help your prospect with whatever the goal of the Ultimate Guide is. The biggest difference to a Resource Guide is that an Ultimate Guide links back to external sources. If there is a particular subject that you want to focus in, you can simply curate a list of articles that best satisfy the ideas you wish to share.
Make sure you do not copy the content of the articles word for word. What you can do is to create a simple commentary for each link and create an introduction for your guide to let your prospects know what the goal of the guide is and what it can help them with.
7. The Bonus
Do you have an old blog article that you feel you can improve further? Reshare it and offer a downloadable version with more content and add a bonus content like a list of links to valuable resources, a list of recommended tools, checklist, etc. Not only will you be able to update your blogpost with a downloadable offer, you will also be able to direct traffic back to your old post after you share it.
8. Checklist
If you have a how-to guide or are planning to have one in your blog, then a checklist would make for a wonderful downloadable content to go along with it. How to create a checklist? It's very simple. All you have to do is to create an outline of the important points in your how-to guide and split that outline further into a list of actionable advises.
9. Case Study
Now, case studies are a great idea if you want to share actionable strategies that your prospects will want to sign up for in order to download. Why? Because they are tried and tested. If you're already familiar with case studies, then it almost always highlights a client, their business challenge or goal, what strategies you you created in order to achieve said goal and the end result.
Keep in mind that while this is a powerful content to share, you will still need to ask permission from your clients in order to share a case study about the service rendered to them. Once you gain their approval, you can now create a powerful lead magnet with content detailing about your client's success after implementing your strategies.
10. The Secret
Last, but not the least of our top 10 tips is "The Secret". It usually comprises of a sentence or 2 teasing your prospects into click to opt-in or subscribe just to find out what your "secret" is to something that has been proven successful.
It could be anything like:
"Want to know my secret to getting 100 qualified leads in just 1 week? Click here to find out!"
OR
"Click here to learn my secret to staying in shape through the holidays!"
OR
"Click now if you want my top secret marketing strategy to improve your blog subscriptions."
What usually follows is a simple page or a downloadable that contains that secret of yours and how it proved to be successful. Make sure to keep it short and sweet, but with all the needed details.
So, there you have it. Ten lead magnet ideas to re-purpose your blog content with.
Know more great lead magnet ideas? Sound off by commenting your tried and tested ideas!
SiteSpot is a website management system that makes writing, designing and maintaining your site a breeze.