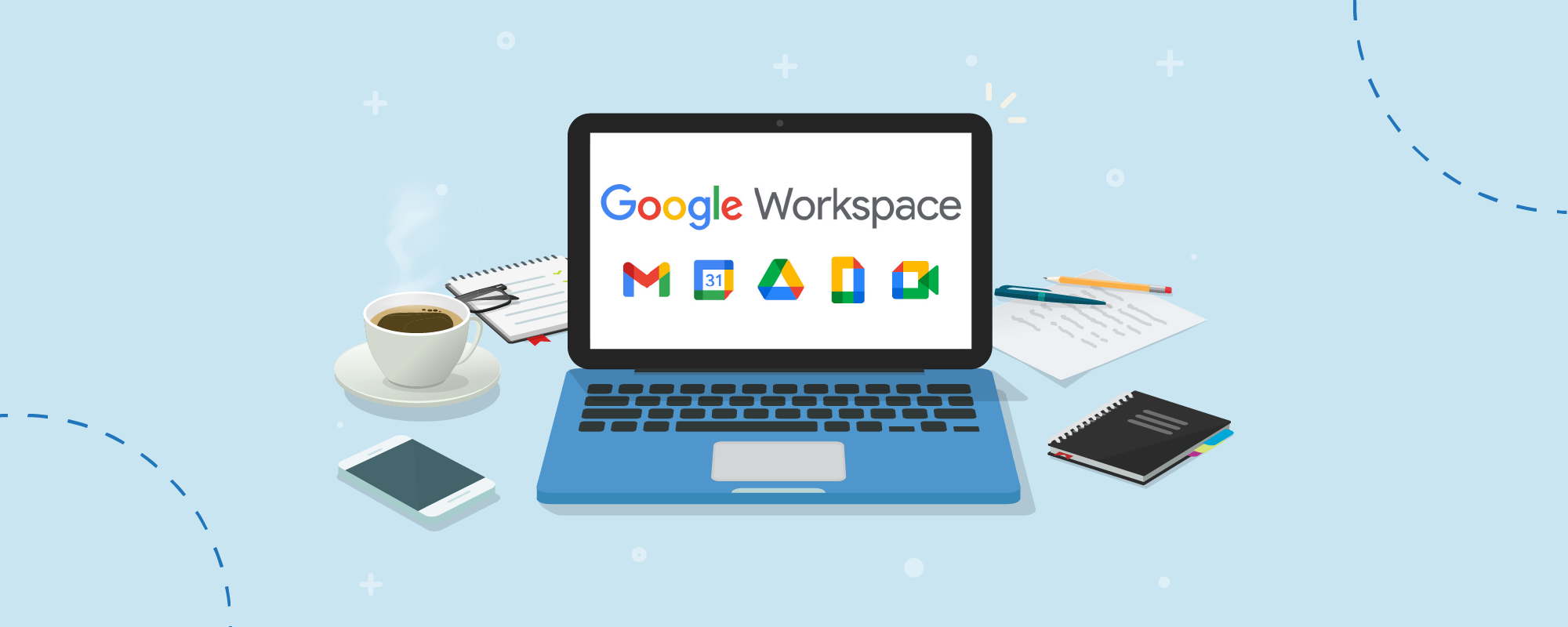 Improve Your Business Using Google Workspace
If your team is already used to Gmail and other Google applications and you're looking to upgrade to a cloud-based suite, then your search should begin (and will likely end) with Google Workspace. Google Workspace, formerly known as G-Suite or simply Google Apps, is Google's collection of innovative, cloud-hosted tools. Google Workspace has become increasingly popular for businesses of all sizes for its ability to boost productivity and provide 24/7 support.
Google Workspace includes apps you already know and love along with apps you'll wonder how you ever lived without, including:
Gmail
Google Drive
Google Docs, Sheets, and Slides
Cloud Search
Google Calendar
Google Hangouts and Meet
Let's explore some of the ways you can use these applications to your business's advantage when you upgrade your Google Workspace.
Gmail
We'd be shocked if there's someone in your office that hasn't used Gmail at least once in their life. With Google Workspace, you can run your company's branded domain email through the Gmail client. In short, you can have "name@mybusiness.com" operate like a regular Gmail account. Additionally, the email application comes with smart features such as email scheduling, Google Translate, Nudge alerts, and having Google AI write your emails for you.
Google Drive
Google Drive is like your digital filing cabinet for just about every kind of document you need for your business. You can either create documents in your Google Drive or upload them into your Drive. Each document comes with its own permissions settings, can be shared with others through a direct link, and can be found easily with Google's advanced search capabilities. With the upgrade to Google Workspace, you and your crew get unlimited data for your Drive storage compared to the 15GB of free data for basic accounts.
Google Docs, Sheets, and Slides
As we mentioned in the previous section, your Drive gives you the ability to create and edit text documents, spreadsheets, and presentations in your web browser. When shared with multiple team members, your crew can collaborate on work in real-time with editing, comments, chat, and automatic saving and updates.
Cloud Search
One of the most frustrating things is trying to find something that's buried in your inbox. But with Google Workspace, you have a suite-wide cloud search function that will look for a keyword across your Gmail, Drive, and Calendar apps.
Google Calendar
Google calendar makes it easy to set up everyone's schedules through multiple calendar creation, email reminders, and calendar integration to see how each person's hourly agenda lines up. Planning meetings and completing tasks is simpler than ever.
Google Sites
Google Sites makes it easy to create your own websites, whether you need a website to sell to your customers or just want an internal website to work with your peers. No coding experience necessary!
Google Hangouts and Meet
Google Workspace provides two alternatives to Zoom through Hangouts and Meet. Both are completely integrated with the other applications, and as long as someone has the link, they can join the meeting.Google Meet can host up to 250 people on a call and 100,000 people for a live-streaming event. But the meeting tools are just as powerful for one-on-ones.
Security
With all of the sensitive information stored in your Drive, it's essential to be sure that nothing will fall into the wrong hands. Google offers state-of-the-art security measures to keep your company's valuable information secure.
SiteSpot is a website management system that makes writing, designing and maintaining your site a breeze.