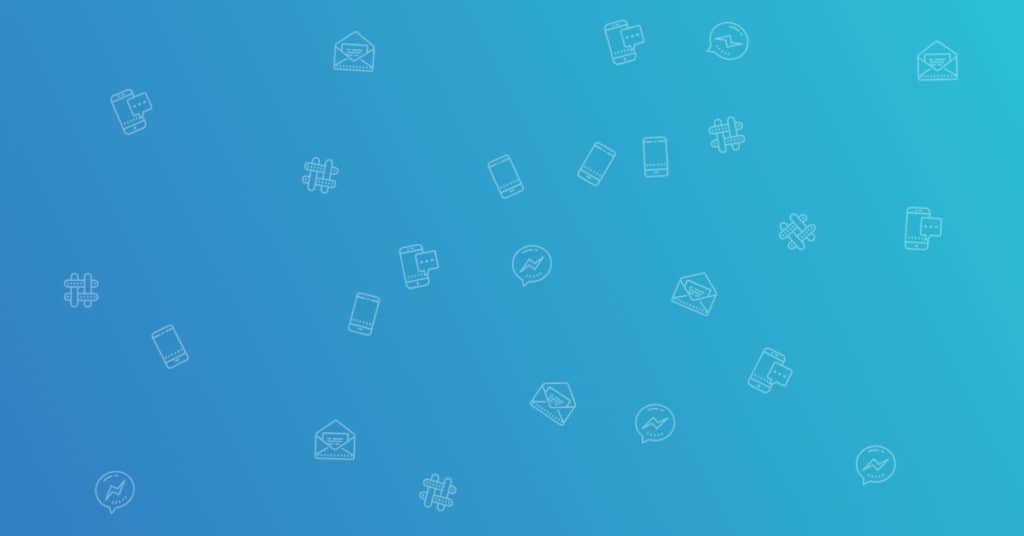 10 Useful tools you can use to build your own Chatbot
Ever thought that making a chatbot is too complicated for you? Think again, because it's actually a lot easier than you think. As their names suggest, these useful forms of AI (Artificial Intelligence) chat with visitors coming you your website, answering questions and committing to customer service 24/7.
The multiple functions of a chatbot make them an incredibly useful tool for any business owner, and even for personal use. Find out what the weather's going to be like, contest parking tickets, answer customer questions, and simply greet new visitors to your website – it's all possible with a chatbot.
So how can you make one? It's a lot easier than you think thanks to the many tools on the market, many of which don't require a degree in programming or any tech skills. We've rounded up ten of the best for you right here.
One place where chatbots have really grown is Facebook. If you're considering a chatbot for your Facebook page, check out Chatfuel, a client for Messenger and Telegram. Setup is as simple as following a step-by-step guide, editing your responses, and adding any links that you might need. Absolutely no tech experience required!
The chatbox works remarkably well with just about any business type. Run a hotel? Then you can list the rooms available for any date, and then create a funnel that navigates customer through the reservation process to get the booking.
Botsify is another excellent chatbot creator for Facebook. Simply visit their site and integrate your account and you're ready to go. This is a little more tech-y than Chatfuel, as it requires webhooks, but it's very easy to use and add commands to. The free plan lets you create as many chatbots as you like, while the paid plan allows for full integration.
It's easy to list all your services and guide users through them to find the information they want using Botsify – and the included images add plenty of visual interest. All in all, this offers a high-quality service that your customers will love.
Are you tired of juggling multiple business and messaging apps and struggling to keep it all together? Then snuggle up to Smooth, a bridge chatbot that sucks all your business and messaging apps into one place for streamlined convenience. A huge number of apps are supported, and Smooch makes it easy to instantly answer questions from customers without constantly reloading different apps.
Smooch's chatbot connectors make it easy to automate tricky, but common workflows too, allowing you to collect data from multiple forms, perform checkout processes, schedule tasks, and even give feedback, all through one smart bot.
No chatbot list would be incomplete with the granddaddy: Facebook Messenger Platform. This is Facebook's official chatbot, and while dipping your toe into the water is easy, there are a lot of sophisticated functions hidden under the glossy exterior. Activating it requires the Messenger plugin, codes, and links, as well as customer matching, structured templates, and a welcome screen. It's a little extra setup, but the results are well worth it.
To give you an idea of the power of this chatbot, you can check out case studies for two of the most developed: CNN for news, and Poncho for weather. There is also a complete, in-depth guide to help you create the perfect chatbot for your business.
If you're looking for more customization or are a developer, check out Beep Boop, a paid hosting platform that lets you create bots for Messenger or Slack. Simply set up your code on Github, launch on Beep Boop, and integrate with the platform of your choice. As a bonus, Beep Boop chatbots can leverage a Real Time Messaging API for fast responses, every time.
On Messenger, you can use Messenger Send/Receive API for similar results for a business page that swiftly chats to all your customers, helping them with their query or purchase in real time.
If you're looking for a chatbot that delivers raw conversational power, check out API.ai, the conversational Messenger bot creator. This tool lets you add advanced contexts, dialog management and fulfillment to your bot, and the best thing is that you can do almost anything in just three steps – developer or not.
Simply create your chatbot agent, give it textual examples of possible conversations it may have, and then wait as API.ai "trains" the bot for you. Once this remarkable process is complete, you're ready to launch and marvel at today's smart AI possibilities.
One of Telegram's best features is also its latest: you can now run chatbots inside it! The company outsourced their own chatbot code and API and even went as far as to release a Bot API and platform – giving developers everything they need to create their own Telegram chatbot.
Chatbots made with Bot API can do a whole lotta things – send customized notifications, remind people of dates, alert people to special offers, or simply share the news. They also integrate seamlessly with Github and YouTube and are smart enough to play games like chess if programmed that way.
Developers who just want to focus on creating an app rather than wrestling with API endpoints should look at the Botkit toolkit, which is used to create chatbots for a variety of platforms including Messenger, Slack, and Twilio IP Messaging. This is a unique kit in that it provides you with semantic interfaces for messaging, unlike other creators.
Botkit chatbots are noted for their clever and conversational application, which mirror the core capabilities built into them. Much like a mimic, they listen to the conversation, learn from it, and reply using it, growing smarter over time. No matter what industry or market you are in, this chatbot is a smart cookie that gets it.
Want a chatbot without the DIY? SiteSpot can help. Book a demo today.
SiteSpot is a website management system that makes writing, designing and maintaining your site a breeze.