Configuring your domain to point to SiteSpot
Configuring your domain to point to SiteSpot

Because SiteSpot does not host DNS you will need to update your DNS directly with your DNS provider. In most cases, your DNS Provider is whomever you purchased your domain name from.
If you're unsure of who your DNS Provider is, you can utilize a third party website such as whois.net to help make this determination. The output under NAME SERVER or REGISTRAR is what you'll be looking for. Both will not be affiliated with SiteSpot and will require you to reach out to their support teams should you have questions accessing your account.
Enter your details below to see instructions

Fill out both your domain, and your SiteSpot URL to see detailed instructions below.


http://






http:// .sitespot.co
PART 1 – Changing Your DNS
Not all DNS Provider's dashboards are setup in the same configuration, but they do contain the same parameters.
CAUTION: do not create a 'blank' or @ CNAME record pointing to SiteSpot as you will more than likely break the rest of your DNS records.
STEP 1 – CREATING THE CNAME RECORD
In your DNS admin panel, modify or create a 'www' record that points to yourinstall.sitespot.co If you have a root A record pointing to an IP address, remove it.
STEP 2 – FORWARDING TO 'WWW'
Create a root (sometimes referred to as an '@' record, or just your domain – mydomain.com)  A record that points to 174.129.25.170
PART 2 – Configuring SiteSpot
Login to your the sitespot admin
Navigate to Tools > Domain Mapping : yourinstall.sitespot.co/wp-admin/tools.php?page=domainmapping
Enter your domain name www.mydomain.com
Make sure you select "Primary domain for this blog"
Hit Save
NOTE: It may take some time for your DNS to propagate (up to 72 hours). You should now be able to access your SiteSpot site using your domain.
404 ERROR
You may see a WPEngine 404 error that looks similar to the below. It takes up to 10 minutes for our caching to reset and for your domain to be available, although it usually is less than 1 minute. Feel free to hit refresh on your browser until your website begins displaying on your mapped domain.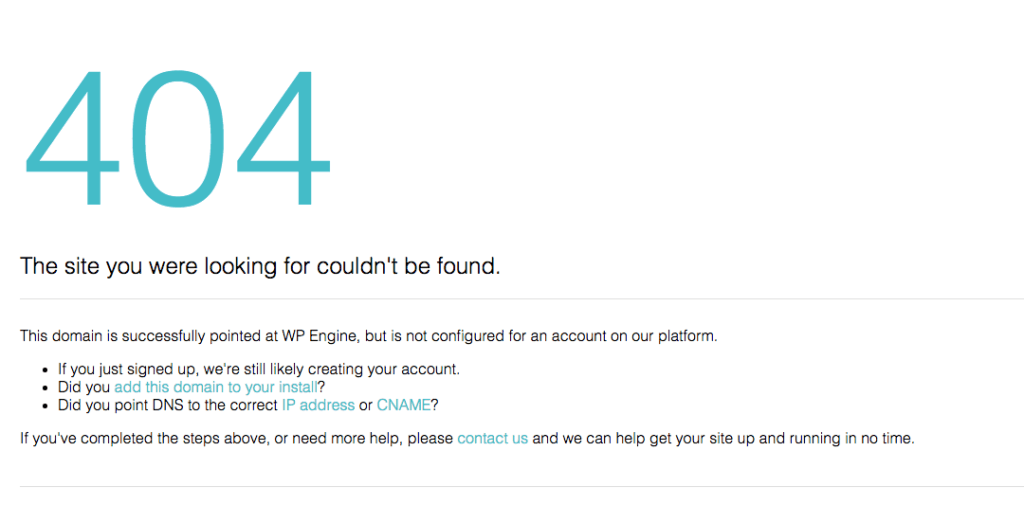 Troubleshooting
Your issue is more than likely saved cookies on your computer. Be sure to clear your cookies if your site isnt loading on your domain. You can use an incognito window, or different browser to check this if you dont want to clear your cookies.
Any other issues, please Contact Us